12 Maart 2008

+ 34 - 36 Freeze
Ik zal ongetwijfeld met ouwe koek aan komen zetten, want ze bestaan als sinds 2001, maar voor mij was deze hele beweging nieuw: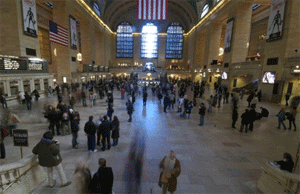 Het met 200 man tegelijkertijd '
bevriezen
' in een grote stationshal en dan, na een minuutje of vijf, gewoon weer doorgaan. Heel ludiek en bovendien hebben ze al veel meer te gekke dingen uitgevreten. Ik vraag me af hoe dit 'freeze moment' zou verlopen in een stationshal als, pak 'em beet, Utrecht Centraal en of het omringende publiek zich net zo voorbeeldig zou gedragen...